There has never been a better time to get the popcorn, snuggle up in a heated blanked and turn on the telly.
In fact, that's exactly what a model citizen would do, right?
So, as we wait for this whole thing to blow over its time to get watching!
Check out our list of the BEST SHOWS to binge while we self-isolate:
The Office (US)
Let's kick this list off with the big daddy of binge-worthy hilarity 'The Office': a mockumentary style sitcom starring Steve Carrell as Michael Scott – a branch manager for sales company Dunder Mifflin Paper Co.
You almost feel sorry for the employees as they get caught up in the painstakingly funny situations haplessly instigated by Michael.
'The Office' also features one of the best romance storylines of all times… Jim and Pam forever, baby.
Available on Stan
Seinfeld

If ever there was a time to catch up on every single episode of the misadventures of Jerry, George, Elaine and Kramer it's now!
The self-confessed 'show about nothing' was certainly onto something because I read that 76.3 million people watched the finale… if that doesn't give you FOMO, I don't know what will.
Time to binge!
Available on Stan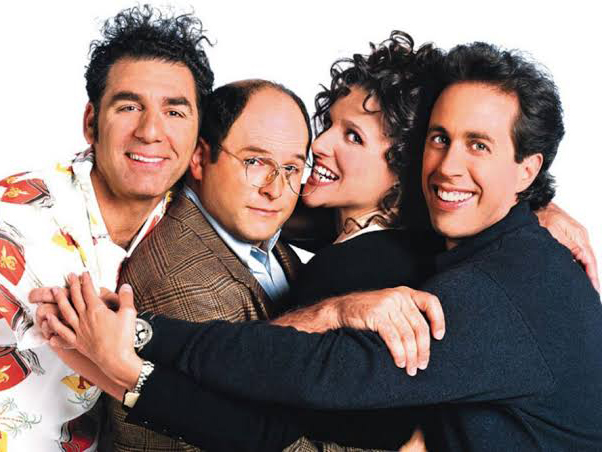 Tiger King
Tiger King has been the talk of the town for a couple of weeks… and for a good reason!
The true crime documentary miniseries about the rivalry between exotic animal zookeepers Joe Exotic, Carol Baskin and Doc Antle will have you scratching your head going "surely, this can't be real?"
Oh, but it is… I'll just leave the subtitle here: Murder, Mayhem and Madness.
Available on Netflix
Friends
OKAY, Friends should officially be known as 'The One You Can Binge' because we're talking about a mammoth 236 episodes created purely for your viewing pleasure.
Let the escapades of Joey, Rachel, Ross, Phoebe, Chandler and Monica take you back to New York in the 90s: a simpler time, remember?
Back when you could still go outside and get 31-minute haircuts. Let's reminisce!
Available on Stan
The Simpsons
The latest player to join the streaming game is Disney+ and boy has it come flying out of the gates with this offer: Every. Single. Episode. Of. The. Simpsons. Ever.
It would take you a solid eight-and-a-half-days of straight watching to get through everything, which would be no challenge for Homer – and considering we're meant to be staying inside it shouldn't be for us either.
Available on Disney+
Community
Dan Harman's Community has received critical acclaim for its acting and writing.
The show focuses on the… well often strange but hilarious members of a study group at Greendale Community College.
Community has a strong cult following for a reason and there's always room for one more member… promise you won't have to sacrifice anything!
Available on Stan
How I Met Your Mother
If you're single and ready to mingle then you're probably missing the dating scene.
Don't stress, you can live vicariously through this epic and hilarious sitcom.
A Dad tells his kids (through flashbacks) what happened to him and his four friends in the lead up to meeting their mother.
A simple premise, a brilliant story.
Goodbye Tinder and hello Stan.
Available on Stan
Brooklyn Nine Nine
Hilarity ensues when an overly strict and unsympathetic Captain Ray Holt takes command of Brooklyn's 99th Precinct butting heads with Jake Peralta (Andy Samberg), a brilliant but childish NYPD detective.
This show should count as exercise because your jaw is gonna get a workout as you follow the stories of Brooklyn Nine Nine's bunch of loveable misfits.
Available on Netflix
Ozark
If a juicy crime drama is your thing – then buckle up!
After a money laundering scheme with a Mexican drug cartel doesn't go to plan, financial advisor Martin Byrde (Jason Bateman) must move his family from Chicago to the Missouri Ozarks to set up a bigger laundering scheme in order to appease a drug lord.
Sounds messy, right?
It is… and I'm living for it.
Ozark is a binge worthy, gripping thriller that feels reminiscent of Breaking Bad, speaking of which…
Available on Netflix
Breaking Bad
A high school chemistry teacher is diagnosed with lung cancer and in order to financially secure his family he decides to start dealing methamphetamine.
I mean, what could go wrong? Turns out a lot.
Breaking Bad is Bad Ass. It's worth the watch just to see the performance by Byran Cranston as Walter White.
Keep in mind – this is the same dude that played the goofball dad, Hal from Malcom in the Middle.
Talk about range!
Available on Netflix
The Test: A New Era for Australia's Team
Even if you're not a sportshead, you'll love 'The Test': a docuseries that gives a behind-the-scenes look at the Australian Men's Cricket Team's fall from grace and triumphant return following the infamous sandpaper incident.
Whatever your take on the Aussie cricket team is, this fly-on-the-wall style documentary is brutally honest and interesting.
Available on Amazon Prime