The owner of an exclusive beauty salon in Sydney has taken the unusual move of BANNING mothers from bringing their children and babies after they book an appointment.
Kristin Fisher, who has salons in Double Bay and Rosebery make the call after 'incidents' involving children who were left unattended while their mothers were receiving eyebrow treatments.
Ms Fisher, who boasts clients including
Today host Sylvia Jeffreys, model Jessica Gomes and footy WAG

Jesinta Franklin, sent a text message to her clients informing them of the rule this week.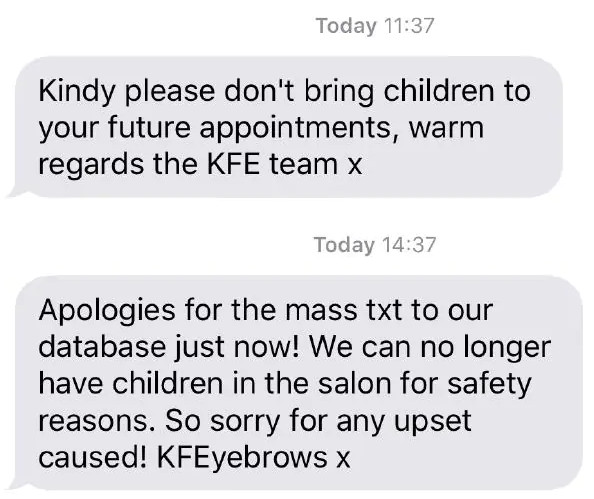 She also posted a more in-depth explanation for her decision on Instagram.
"This is a very hard post for me because I hate upsetting people and I feel this may do just that, but we have no other option," she wrote.
"We are imposing a new rule that clients must not bring children or babies to their appointments."
"Recently we have had times where there have been ten children in the salon at one time, all unattended, while their mothers get treatments done,"
"We have had kids run onto the street, we've had clients leave midway through their appointments as they're too annoyed about the noise being made by children and we've had mums call and complain saying their brows are crooked after they've been nursing a squirming baby the whole appointment,"
"It simply isn't fair to the other clients who have come solo, who for them this is their monthly treat/splurge and want some peace and quiet while they have their brows or lashes done, nor is it fair to my staff who are constantly chasing after kids and nursing babies."
"I of all people know how hard it is to get away for an appointment as I have two young children myself, without any grandparents here in Sydney to help out and mind them when I need to pop out,"
"That being said, I make sure all of my 'me time' appointments are just that — for me. I know how hard it is to book a babysitter for such a short time, but given these appointments are monthly (at the earliest) I do hope our beloved mummy clients can find alternative childcare prior to their appointments in the salon."
"Thank you for your ongoing support and loyalty and we are looking forward to seeing you all in the salon (relaxed!) and child free."
What do you think? Should kids be allowed in beauty salons? Let us know in the comment below.
Want more? Listen to one of our favourite moments from The Ali Clarke Breakfast Show – Tune in weekdays from 6AM on Mix102.3!