Our very own Erin Phillips shared that she hung out with tennis superstar Serena Williams…TOPLESS!
In a campaign with Berlei, Erin and Serena had the chance hang out and share their own sporting stories.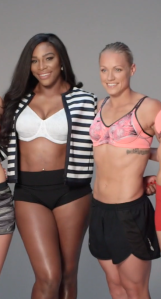 Erin loved her experience with Serena, saying she is a wonderful and warm person. "She was so easy to work with. She was a professional in her element and made you feel comfortable."
"It felt like you were in the presence of greatness." Erin said about her meeting with Serena.
Source: BerleiErin spoke with Serena about her time in the WNBA while she was in LA and stories of Australia.
Watch the full video below!