Jodie and Soda faced off in an art competition in this week's world famous weekly challenge. But for some reason, Soda was left in charge of sourcing the subject to paint.
And for some reason, Soda organised a nude male model. (We don't ask questions anymore)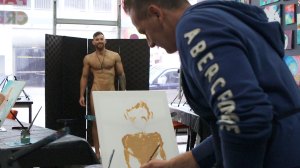 Footy legend turned artist Gavin Wanganeen was in to judge the guys' talent and how well they were able to capture the model's….talent!
Who took home the win in this week's weekly challenge? Listen in to find out: