Sinead O'Connor who recently changed her name to Shuhada' Davitt, has sparked outrage after taking to Twitter to say: 'I never wanna spend time with white people again'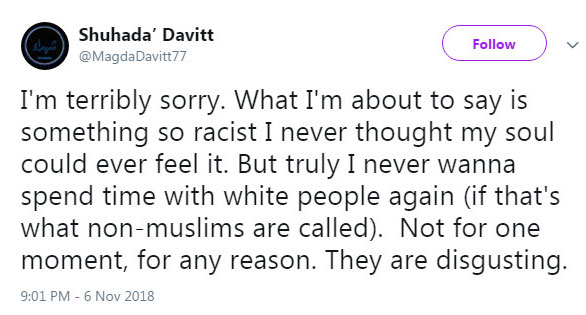 She also branded 'white people' or 'non-Muslims' disgusting, before later adding: 'interesting to see if Twitter bans this'.
The 'Nothing Compares 2 U' singer later tweeted: #TrustMeIAmaSoldier, NotAsF*****CrazyAsSheLooks' and #ReignOfWhiteMANover.
The 51-year-old, who has spoken of her ongoing mental health issues in the past was met with strong criticism online from both Muslims and non-Muslims.
O'Connor, who now only posts footage of herself whispering so 'the TV people cannot use my videos' later posted to negative Tweets with this response: 'Forgive me. Sometimes the Lord needs dirty workers ; )'
In late October, O'Connor wrote: 'This is to announce that I am proud to have become a Muslim.'
She added: 'This is the natural conclusion of any intelligent theologian's journey. All scripture study leads to Islam. Which makes all other scriptures redundant. I will be given (another) new name. It will be Shuhada.'
MORE: SINEAD O'CONNOR CONVERTS TO ISLAM, CHANGES NAME
MORE: SINEAD O'CONNOR BLASTS KIM KARDASHIAN
Want more? Listen to one of our favourite moments from The Ali Clarke Breakfast Show – Tune in weekdays from 6AM on Mix102.3!