We've drunk out of Coke cans, Coke buddies, and Coke bottles. We've had Diet Coke, Coke Zero, Vanilla Coke, Orange Coke, Coke Plus Coffee, and even that green Coke Life that they tried to pass off as healthy!
But we can safely say that THIS is the most unique Coke of them all.
It's called 'Would you like some Jodie with your Soda?' and we're saying yes please!
Artist Emily Johns (Pictured above) has used a Coca-Cola bottle to create one of the most unique pieces of art we've ever seen, and yes, we are a little biased seeing it is a Mix102.3, Jodie and Soda inspired piece of art!
With a description like this though, how could you not love it?
The Artwork portrays all of the fun and enjoyment from listening to 'Adelaide's Fun Breakfast' at MIX 102.3. The bright colours and patterns represent the laughter and happiness that Jodie and Soda bring through our radio waves. – There is never a dull moment. Bringing in the summer vibes to the best time in Adelaide with all of the greatness and madness of The Fringe Festival and 'Mad March'.
The one-off piece is being auctioned online to support not-for-profit organisation Youth Opportunities.
See or bid on the Jodie and Soda Coca-Cola artwork here.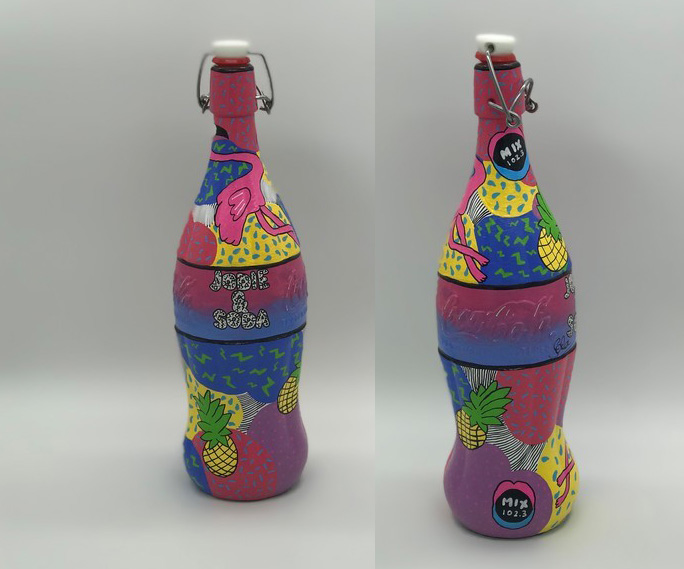 But it's not just Jodie and Soda who have inspired these pieces of Coke bottle art.
More than 50 artists and South Australian personalities have teamed up to transform limited edition retro glass Coca-Cola bottles into unique pieces of art for an exhibition at South Australia's largest festival, Adelaide Fringe.
The exhibition will be held in the Garden of Unearthly Delights for the month of the Fringe in an iconic custom-made space (you'll find it just behind the Ferris Wheel near the amusement rides).
The TransformARTive exhibition aims to raise awareness and funds for South Australian not-for-profit Youth Opportunities who provide wellbeing, resilience and personal leadership programs to high school students.
Each piece of art will be auctioned via an online silent auction, allowing bidders from all over the world the chance to collect an iconic piece of South Australian art via www.youthopportunities.com.au
Up to 10 artworks will be auctioned live at the Exhibition auction on Thursday March 14.
The online silent auction at www.youthopportunities.com.au will have a reserve price listed and a buy now, with bidding to begin at a nominated value based on the artwork. All funds from the sale of the bottles at the exhibition will support the work of Youth Opportunities.
The exhibition will be on display at The Garden of Unearthly Delights from Friday 15 February to Sunday 19 March 2019 and is open to the public to attend.
Want more? Listen to one of our favourite moments from The Ali Clarke Breakfast Show – Tune in weekdays from 6AM on Mix102.3!