Mix102.3 breakfast show hosts Jodie and Soda have pitched in to give a very special boy from Kidman Park the best third birthday they could.
Ali was diagnosed with leukaemia in December last year and has spent most of the last four months in the Women's and Children's Hospital with multiple complications due to the chemotherapy.
This morning, Jodie and Soda sent their Mix102.3 van to his house to surprise him with as many presents as they could fit in the van!
Watch the video above for Ali's beautiful reaction as he comes outside and sees all his toys in the van, and a special cake from Heidelberg Cakes.
Prior to coming outside for the surprise, Ali's mum, Robyn Pavy, told Jodie and Soda about how much their life had been tipped upside down since the diagnosis.
"On 1st of December we took him into the Women's and Children's with a rash on his stomach. I thought nothing of it, it looked like heat rash or eczema," Robyn said.
"Then probably an hour later they told us he had leukaemia.
"So complete shock.
"He had an enlarged spleen and liver and low platelets and haemoglobin. He was very sick and I didn't even know.
"I don't think I really took it in. I just looked at the doctor and you just don't believe it. It took a few days to sink in but it was devastating when they walk you up from the emergency room to the Michael Rice Ward which is the oncology ward at the Women's and Children's. Ali just kept saying to me 'I want to go home, I want to go home' and I was just thinking 'I want to go home too'.
"Pretty much since that diagnosis we have been at the Women's and Children's ever since with one complication after another.
"He now has a tracheostomy, which is an artificial airway so that's why we have a nurse that comes at night because we have to keep it clean so he can breath.
"The nurse sits in Ali's room the whole night. They come at 10pm and sit in the room with him and he wears a little probe on his toe and it monitors his oxygen saturation and his heart rate just to make sure the tube doesn't get blocked overnight or his heart rate doesn't drop too low.
"We're very lucky to have that, that's a service through the Women's and Children's through Fragile Airways so we're very luck to have that service.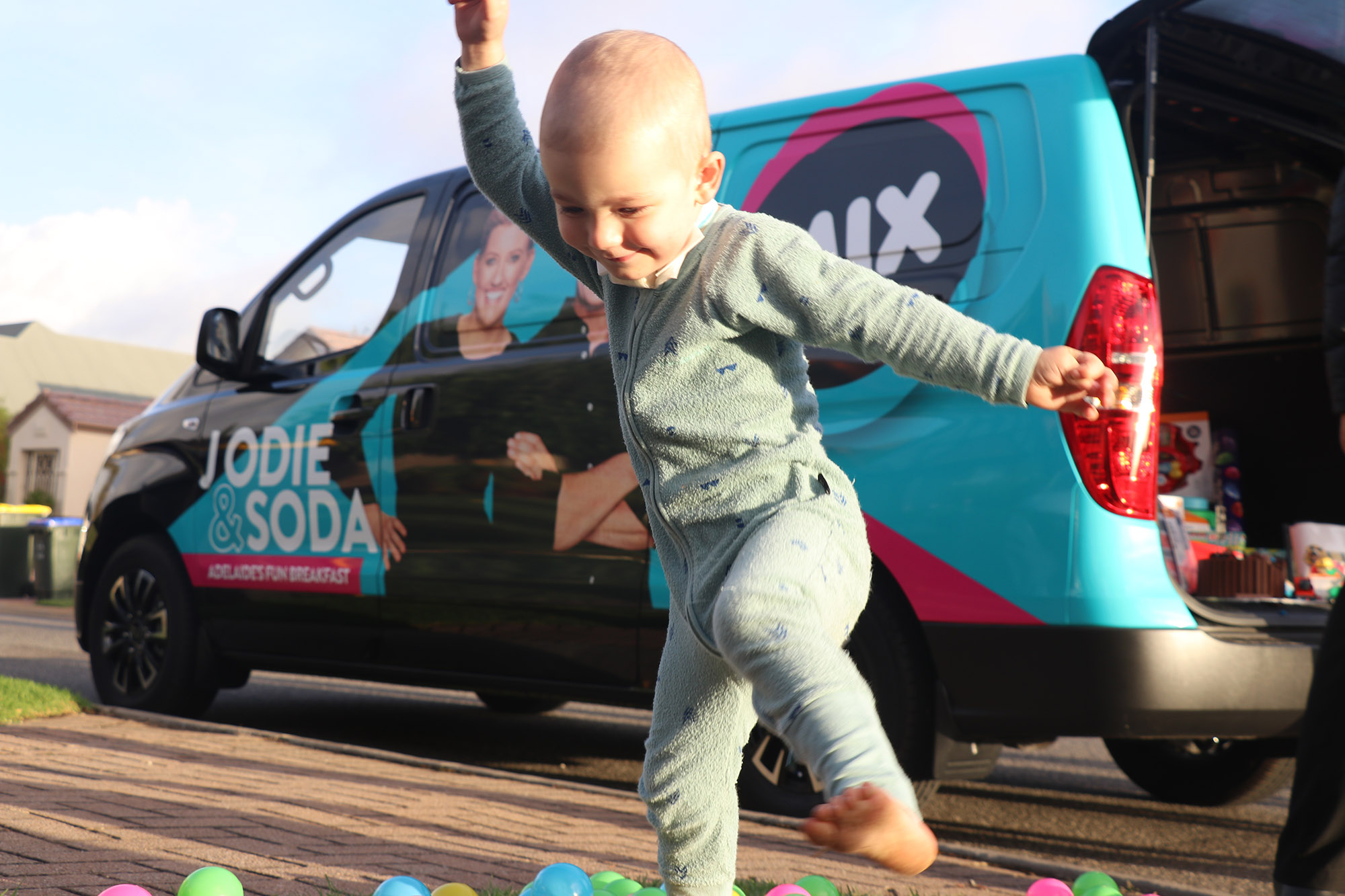 "I don't know if this is 100% but I think there's an 80-90% chance of survival.
"The type of cancer he has they told us on the first night it's one of the best cancers to have. It's just that Ali has had all these complications with his susceptibility to the main chemo drug Vincristine so that has caused vocal chord paralysis and it caused the nerves in his legs to stop working for a little while so they have had to reduce the dose of that.
"So that compromises his long term outcome because he is not having the full dose of his treatment.
"He's very cheeky. Prior to having cancer, he's got an older brother James, and he was always wanting to do everything James does. He's a fun little kid, happy to talk to anyone, not shy.
"He is very resilient and they told us that on the first day (he was diagnosed) that it is often hardest for the parents to watch them go through it. They often bounce back really quickly.
"Yesterday he had his big fundraiser at the West Movement (with lots of Port Adelaide AFL players). Riley Bonner, Sam Power Pepper, Hamish Hartlett, lots of them came down it was great."
See lots more of Ali including all the highlights of his huge fundraising day on Facebook here.
Want more? Listen to one of our favourite moments from The Ali Clarke Breakfast Show – Tune in weekdays from 6AM on Mix102.3!