WARNING: Contains content that may be distressing or triggering for some people.
On Friday morning, Mix102.3 breakfast hosts Jodie and Soda met Alex and her 14-year-old son Sam.
Over the past 15 months, they have dealt with pain that brought them to the brink of life.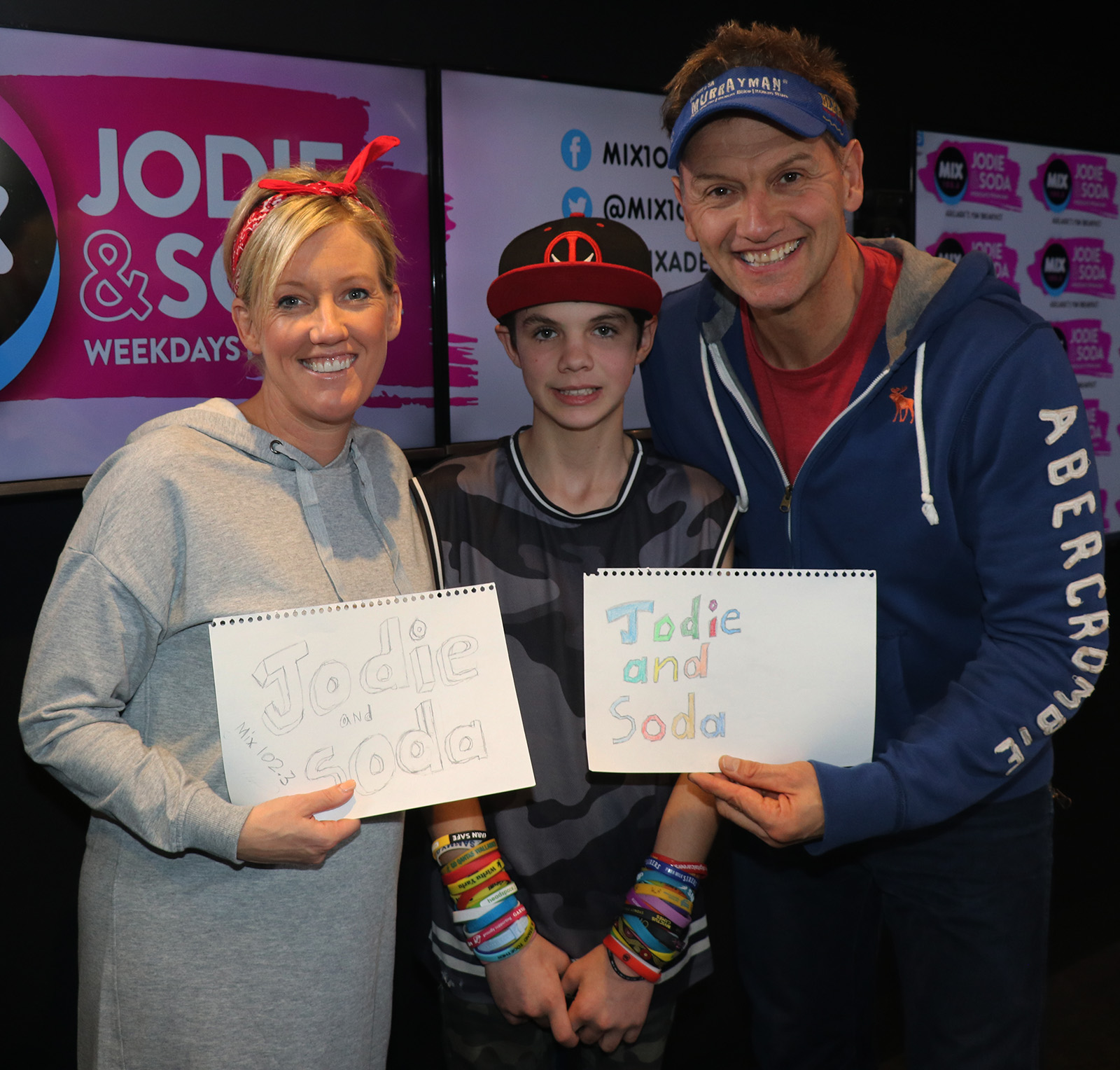 Their story is heartbreaking but we know they are not the only ones. Families throughout Adelaide deal with intense issues like this every day and Jodie and Soda decided it was time their voice was heard.
And as they regularly do with their famous 'rescues', Jodie and Soda had a few surprises – with the help of Auto Masters and Discovery Holiday Parks – to make a difference for Sam.
"This is pretty heavy and it's pretty dark but we're going to talk about this because we feel it is crucial to do so because this is an issue that so many parents and kids are struggling with," Jodie said.
Listen to it all – including the emotional interviews and the surprises for Sam and Alex – in the video above.
Mum Alex started her story from when she found a 'suicide note' in her then 12-year-old son Sam's bedroom.
"It started in March last year," Alex told Jodie and Soda, "I was cleaning my son's room two days before his 13th birthday and I found a suicide note.
"I didn't know how to handle it. I just didn't know how to talk to Sam about it. I didn't want Sam on his own. I was so confused and upset and hurt that he was feeling this way.
Alex said the suicide note was in the form of graphic drawings.
"He drew himself with a gun to his head, he drew a coffin with RIP on it. It was really dark and like he didn't want to be here. He drew himself ending his life," she said.
"After some advice from friends who work in mental health, I got on to Headspace and the hardest part was talking to Samuel about it because he obviously didn't know I knew and he was very confronted when we brought it up."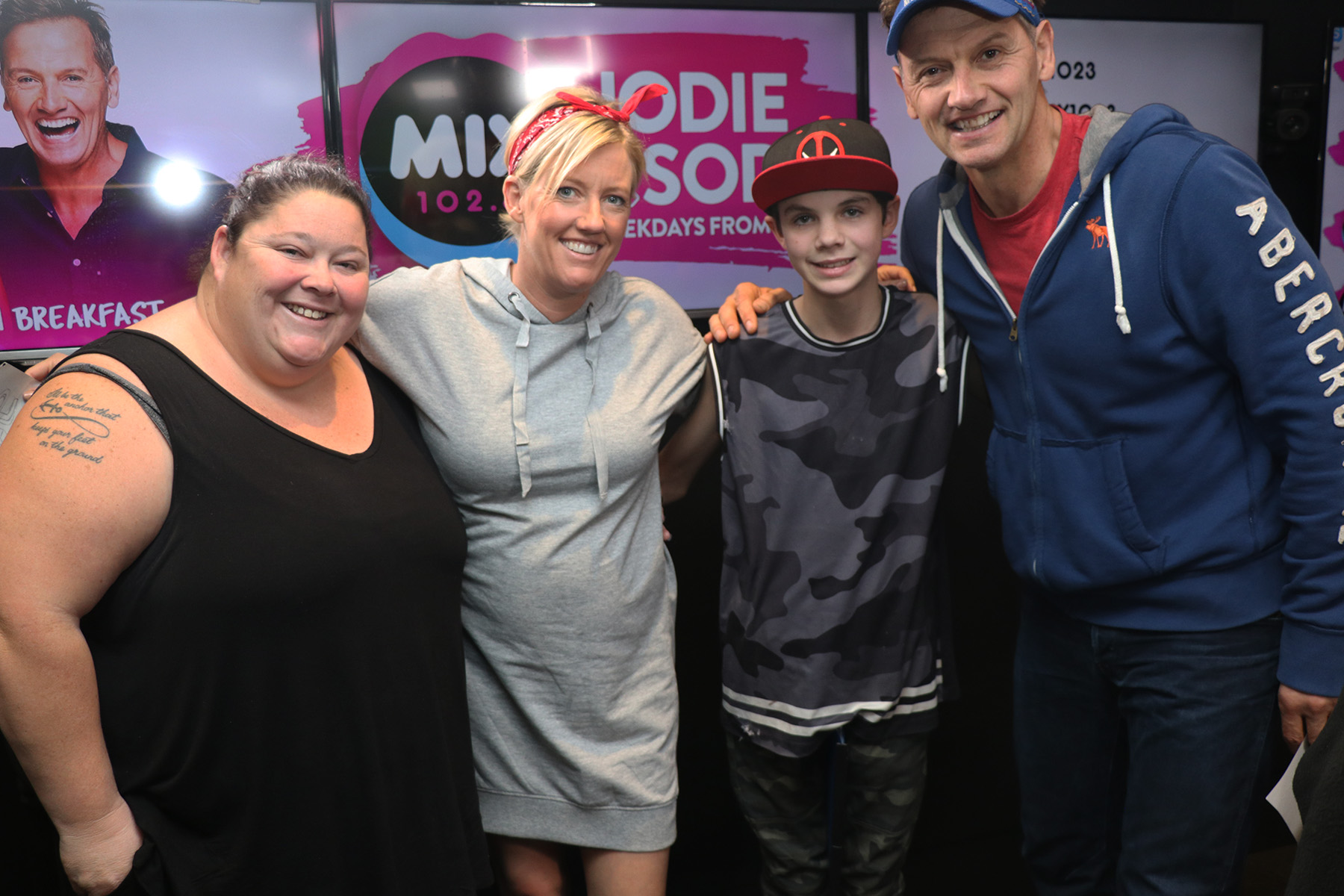 The discussion with Headspace led to Alex's first realisation about the extent to which Sam had been bullied at school.
"He'd asked the teacher several times for help to the point that he hid under a table at school and then another student came up and kicked him several times under the table," Alex said.
Things didn't immediately get better. In fact they got a lot worse.
"This was the hardest part," Alex said, "he took a knife from the kitchen and went to stab himself.
"I took the knife from him and I just drove him to hospital.
"We sat in the hospital for four hours to just be told by a mental health worker there that I had all the right steps there was nothing else they could do."
Alex said South Australia lacked the necessary support in its public health system for children struggling with their mental health and the families trying to support them.
"There's definitely not enough, not enough for the person handling the situation themselves but also their support because it's their support people that have to be strong to be there for them," she said.
"I just want other children to know it's OK to talk to their parents. If not parents, aunties or uncles, there's a lot of people out there who do care and they're not alone."
But thankfully, today, things aren't so dire for Sam.
Sam sat at the microphone in Jodie and Soda's Mix102.3 studio, grasping his folder of precious artwork that he wanted to share with us, and told Adelaide that people in his situation should "speak (to) family, friends, teachers".
"I got most of my help from Headspace," he said.
Alex said Sam had gone to a 'Beyond Blue weekend' which included four-wheel driving in sand dunes.
"He came home with a completely different attitude," she said. "He was happy, bubbly, he's like 'when are we going next'."
But going again has been a problem as Alex hasn't been able to get their car repaired to hit the sand dunes again.
Enter Simon Ballard from Auto Masters, who was on the phone this morning with good news.
"This is a story that's touched us and we're wiling to help out and repair the car for you," Simon said.
It almost brought me to tears to be honest and I want to bring that laughter back and get your car into one of our stores, wherever's convenient, so you can get out there again."
Next on the phone was Grant Wilkins from Discovery Holiday Parks and the G'day Group.
"We're a proud South Australian company and we love to help South Australian families," he told us.
Caravaning and camping is all about connection and getting out in the outdoors and listening to your four-wheel-drive story we thought Lake Bonnie next to the 4wd adventure park would be a great space for you to go and have a holiday so we want to give you five nights in a deluxe cabin."
Jodie and Soda's rescue for Sam and Alex also included a five-day pass to Loveday 4×4 Adventure Park in Barmera, and a hot lap for Sam in a race buggy with Toby Whateley, Australia's fastest Can-Am driver!
Sam was totally overwhelmed, his mum Alex was crying at this point, and Sam said he was "speechless". He said he gets "really, really excited" when he goes four-wheel driving as he loved "the experience and the jumps" and how rough it gets.
We love thinking of Sam getting to go back in that four-wheel-drive, getting back to his happy place, and all because of the support of Auto Masters, and Discovery Holiday Parks.
"We take our hats off to a man called John Maguire who does a lot of stuff with the four-wheel driving up at Jakem Farm and also Loveday with groups of people who are dealing with depression. Johnny, you are a superstar because you're helping families like Alex and Sam," Soda said.
If this article has brought up any issues for you, you can seek support from Lifeline via 13 11 14 and www.lifeline.org.au; Beyond Blue on 1300 22 4636 and www.beyondblue.org.au; Kids Help Line on 1800 55 1800; or via Headspace.org.au.
Want more? Listen to one of our favourite moments from The Ali Clarke Breakfast Show – Tune in weekdays from 6AM on Mix102.3!