Jodie and Soda have come out swinging against the Northern Territory after the newspaper up there labelled Adelaide the most boring city in the world.
Others around Australia have been chiming in on the back of a rant from the NT News over Twitter.
Using full caps and admitting to being drunk, the NT News' social media manager tweeted in anger over a decision to move the Adelaide Strikers' Big Bash match against the Perth Scorchers from Alice Springs to Adelaide Oval.
"WE'RE NO ONE TO SPEAK BADLY ABOUT ADELAIDE BUT DOES ADELAIDE SUCK OR WHAT?" came the tweet from NewsCorp's @TheNTNews.
"WE'LL TYPE SLOW SO YOU UNDERSTAND, ADELAIDE IS THE MOST BORING CITY IN AUSTRALIA. PROBABLY THE WORLD"
When The Advertiser replied with a yawn and some zzzzz's, the comeback was swift.
"WE'RE GLAD YOU CAN FINALLY ADMIT THE TRUTH ABOUT YOURSELVES. MY NAME'S ADELAIDE AND I'M A BOREOHOLIC. ZZzzzZZZzzz," tweeted the NT News.
When the tweets were discussed on Channel 9's The Chat Room, there was more Adelaide sledging, this time from Queensland journo Davina Smith.
"Beautiful city…. Boring," she said.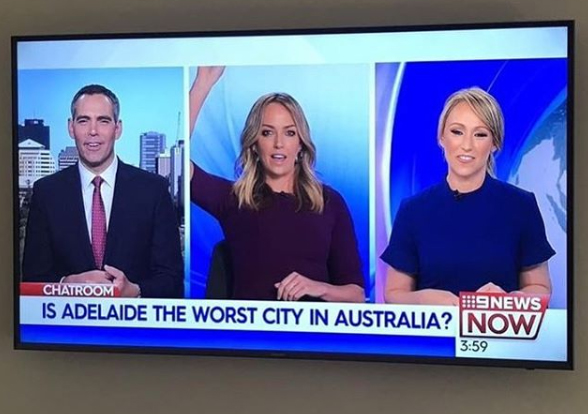 Mix102.3 breakfast hosts Jodie and Soda have spent the last two days leaping to the defence of our fine state… although probably have done a better job of sledging the Northern Territory!
Jodie said she had never been to the NT and "I don't care to, to be honest."
Soda said "I've got to admit, there are a lot of people In Darwin that are running away from something and hiding."
NT News editor Matt Williams jumped on the phone to defend his publication's Twitter rant, throwing in a couple of barbs on the way like that they are allowed to ride a bike without a helmet.
It was quite rich from Williams given he is a born and bred South Australian. Soda told him it was "high treason".
Yet the NT News continue to throw barbs, this time reporting on Jodie and Soda's reaction to the sledge, with the headline 'NT News editor Matt Williams has been called a 'turncoat' and a 'traitor' for letting the NT News criticise his home town'.
We also noticed this caption on the NT News article: "Mix102.3's Jodie Oddy and Mark Soderstrom have called NT News editor Matt Williams a traitor. But they are on Adelaide radio, so what's worse?"
Not sure where we go from here, but if Victoria wasn't already enough of an enemy, now we've got the NT to battle too.