Jodie and Soda promised this would be the biggest rescue they've ever attempted. To fulfil Kerry's final wish they need to raise $200,000. That would complete the funds needed to build a Cancer Wellness Centre at Flinders Medical Centre.
"We know from Kerrie Briggs and the Flinders Foundation that there was one gap (in looking after patients with cancer), and that was supporting people going through cancer during diagnosis, treatment and following treatment," Soda said on air on Monday morning. "She wanted to build a wellness centre that will provide all that support."
You can read all about the Cancer Wellness Centre and what it will mean for people affected by cancer here.
So Jodie and Soda needed to come up with something that will make people go 'wow', something that all of Adelaide can get behind, and that might inspire donations to help us get that last $200,000 for Kerrie's Cancer Wellness Centre.
"It had to be tough and it had to be a challenge or it wouldn't be worth doing, (otherwise) everyone would have a Guinness World Record," Soda explained.
"Jodie, there is an official world record and it is called 'The Longest Marathon On A Fairground Attraction', this is the record of the longest time to continuously ride an attraction.
Read about Kerry, her breast cancer battle, and find out how to donate here.
"Sam Clauw sat on the Pirate Ship for 50 hours (in 2014). Jodie Oddy, to raise as much money as we can to bring Kerrie's final wish to reality, you and I are going on the Ferris Wheel for 52 hours straight. With no sleep.
"We are going to get on the Ferris Wheel on a Wednesday morning in a couple of weeks when our show starts and you'll get off the Ferris Wheel at lunchtime on Friday.
"This is all to raise money for the Flinders Foundation to get this magnificent Cancer Wellness Centre which will be start of the art, world's best practice, built here in Adelaide."
The Ferris Wheel will be in the Garden of Unearthly Delights, and Jodie and Soda's attempt to ride it is barely two weeks away.
Will they complete it and feature in the Guinness Book of World Records? Can they raise the money needed to build the Cancer Wellness Centre and fulfil Kerry's final wish?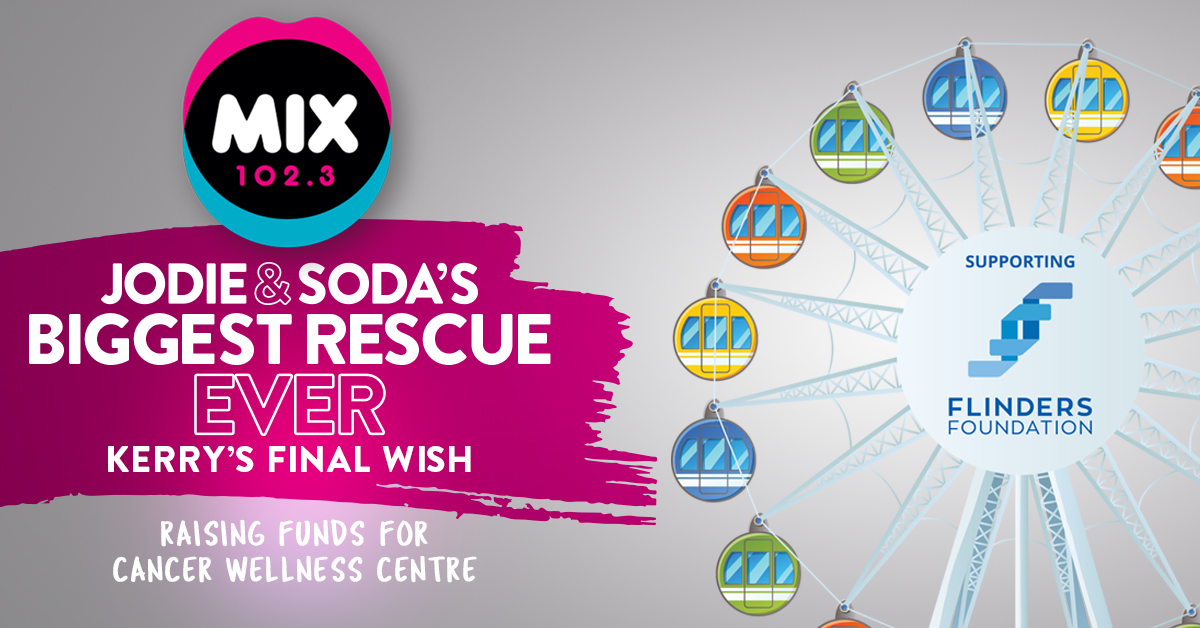 Want more? Listen to one of our favourite moments from The Ali Clarke Breakfast Show – Tune in weekdays from 6AM on Mix102.3!