Alessandra Rampolla has 20 years of experience as a certified Sexologist, assisting couples with what can be a little bit of an awkward situation.
She now features as one of the experts on Married at First Sight. This week during intimacy week she assigned couples to explore their boundaries and connect with one another through 10 minutes of an uninterrupted make-out sesh. Maybe give that one a shot in the bedroom or here's the advice Alessandra gave to Erin & Soda this morning.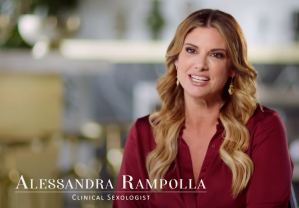 Considered a sex-professional, Alessandra explained that the human experience is the human experience. We all have issues and taboos and the idea of sex can be uncomfortable especially when the flames need rekindling.
"The first and most important thing is to choose to decide to prioritise sexuality in your life. That's an individual and conscious choice to make."
"Also you need to maintain a very strong personal contact with your sexuality."
"I am 46 and my fantasies are different than my fantasies at 36 and at 26 and at 16. And they will continue to change and evolve. So I need to be able to connect with myself. Where I am today and what I can bring into this relationship with my partner today. That and good communication. Where you can comfortably speak about things."
Take notes people, this is sure to get the flames burning on HIGH heat.
Get the entire advice below (It's worth it).
Want more? Listen to one of our favourite moments from Erin Phillips & Soda – Tune in weekdays from 6AM on Mix102.3!