Could this be the start of an adorable love story?
Aussie actor and ambassador for the Love Your Sister Charity, Samuel Johnson, joined Kyle and Jackie O in studio yesterday to chat about his new book 'Dear Dad'.
And ICYMI, in between chatting about raising money for his charity and his acting career, Sam actually asked our very own Jackie O out on a date!
"How's the love life going Samuel?" Jackie asked.
"Terrible. You want to go to dinner?" he asked in response. "I would love to take you to dinner. I think you're probably used to dining in more expensive restaurants than me though so you might have to pay."
While it may have sounded like a bit of a joke to anyone listening at home, there are a few things that make us convinced that it was a legitimate offer!
Sam gifted Jackie one of his books with his phone number written inside it! Oh and since his appearance on our show he's actually gone and written a freaking LOVE LETTER to her! Who says romance is dead, amiright?!
The post was made to his Facebook page 'Love Your Sister' and was accompanied by the photo Kyle and Jackie took with Sam after his interview, only with a slight modification. He'd drawn a love heart around him and Jackie!
"TEARS FOR LUBE – An essay by Samuel Johnson," he titled the letter before explaining how embarrassed he was feeling about what he'd just done on air.
"Jackie O is single, according to her radio show that she does with Kyle Sandilands… I was guesting on Jackie's show this morning to promote our 'Dead Dad' book. As I was waiting in reception, and with a clammy and slightly trembly hand, I wrote a message for her on the inside cover of 'Dear Dad'," Samuel wrote.
In case you were wondering what it said, it was simple "with love, Samuel Johnson" beside his digits.
He then asked for some help…
"I don't want to push it, no means no, but just in case there is any wiggle room, I was wondering if you might wanna throw in a good word for me? A character reference perhaps," he continued in the post.
"I think she's pretty speech, and I can't help but feel that if I just give up and leave it alone, she'll think I was just being stunt and I won't wanna retreat at the first hurdle, you know…
"Need. Your. Help. This dating sh*t is so tricky. Advice please?"
People began flooding the post with their thoughts and advice, some good and some bad, but it's one comment in particular that caught our eye.
Jackie O actually responded herself!
"Who says I shut you down?" she wrote alongside a wink face emoji. "This is so lovely and you don't need to be embarrassed."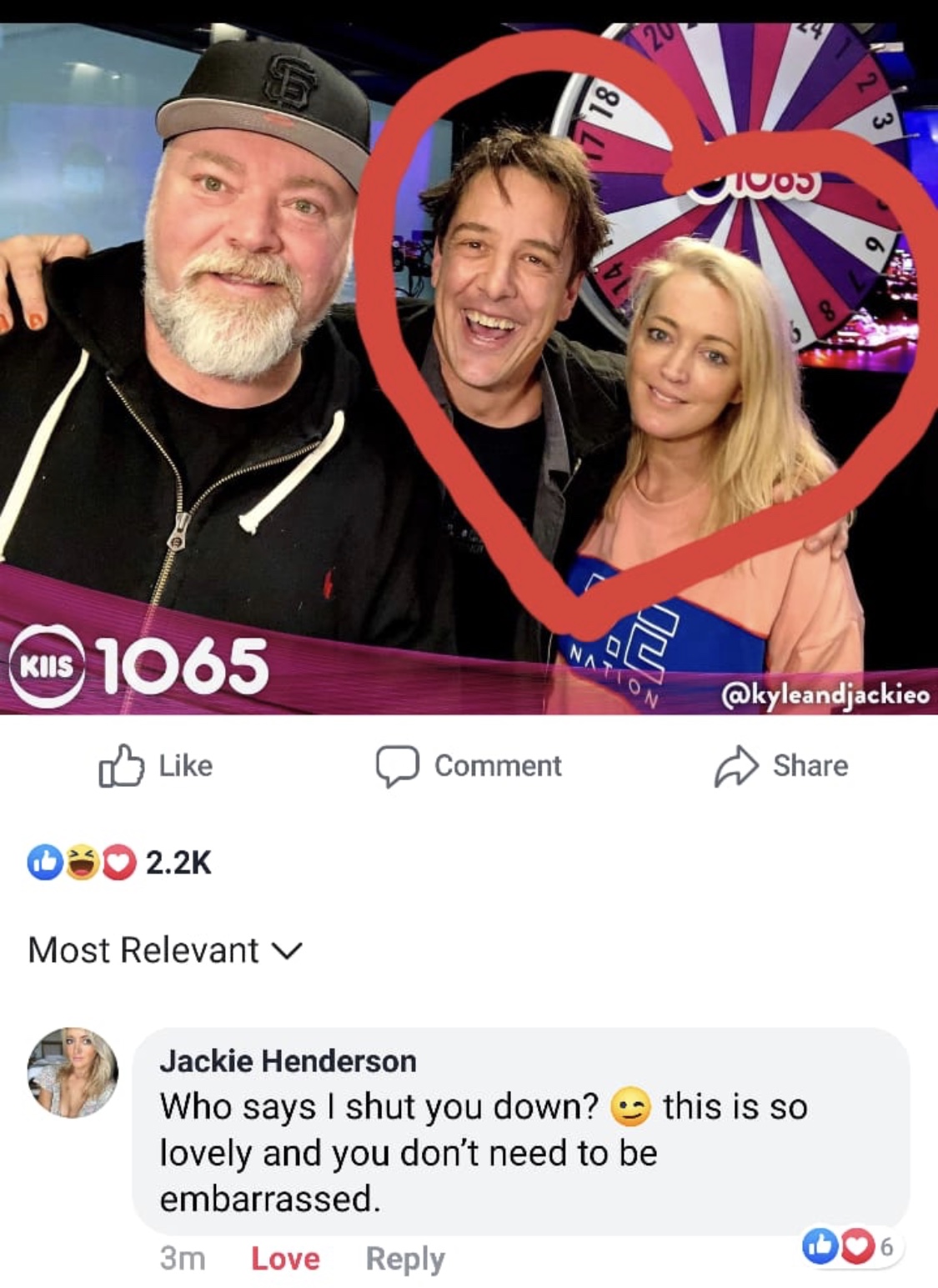 OMGGGG! We feel like a teenage girl freaking out over how cute this is!
If you're as invested in this now as we are, stay tuned…
Want more? Listen to one of our favourite moments from The Ali Clarke Breakfast Show – Tune in weekdays from 6AM on Mix102.3!