Yesterday Bachelor fans were left shocked and devastated following news that Matt Agnew and Chelsie McLeod have split, just weeks after their relationship was made public.
Both Matt and Chelsie spoke out in statements on Instagram yesterday, claiming that their relationship didn't translate from filming to reality.
They claimed that there was no more to the story and that they wished each other the best.
"These past six months since filming have been a very unique experience. Chels and I have made some beautiful memories together that I'll always cherish, and I wish her nothing but the absolute best," Matt began.
"However, it's with a heavy heart that I write this. For Chels and me, our relationship hasn't translated from filming to the real, every day world as we had hoped."
Matt showed me what it was like to be respected in a relationship and I am so thankful for that. However, it saddens me to say that we are no longer together. I wish him nothing but the best," Chelsie added in her post.
Following the split, fans immediately began to speculate whether Matt believed that he had chosen the wrong girl, with attention quickly turning to runner up Abbie Chatfield.
But if you're thinking that there will be some sort of reconciliation between Matt and Abbie, we don't think that's the case.
Abbie has spoken out on Instagram about the split, basically asking people to exclude her from this narrative and saying that she has nothing to do with the break up.
"I've been tagged in a lot of comments this morning on posts about Matt and Chelsie's relationship ending," Abbie wrote on her Instagram story.
"Some of you are saying it's 'my shot', other are saying that he's done a Blake Garvey. None of this is fair on Chelsie, Matt or me.
"My contact with Matt ended when I walked away from him at finale and I am good friends with Chelsie and love her very much.
"These comments are unnecessary and aren't helping anyone. I have nothing to do with their relationship or their breakup, so I'd appreciate it if I was left out of the conversation. Matt and Chelse are great humans and I want them to both be happy."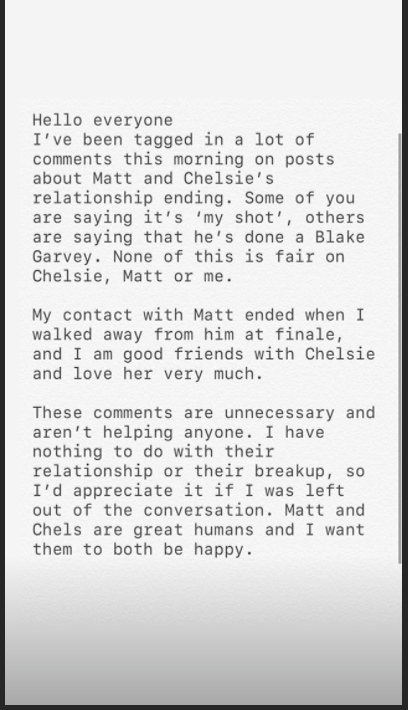 In a following Instagram story, Abbie posted a screenshot of a direct message she had received from someone that said "you are to blame".
"Yeah this is what we're ARENT going to do :)," she wrote on the image.
Matt Agnew chose Chelsie over Abbie in the recent Bachelor finale back in September.
Their relationship had only been out in the open for about six weeks before announcing their split.
Chelsie has since posted on her Instagram story, asking fans to please not send her articles about the split as "it won't help".