We all know those overachieving mums that rock up to kids parties with their multi-tiered cakes while you only have fairy bread and some pizza shapes to offer.
Our newsreader Kerrie Turner is one of those mums, who made a batch of dinosaur crayons for her kids by pouring melted down crayons into dinosaur-shaped moulds.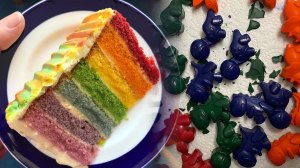 Meanwhile, one listener of the show made a three-tiered cake the week of her caesarian telling Soda and Erin that she came home from hospital and continued making the cake that she had already started.
Toni told Erin and Soda about the hand-made treasure that she created by hand-painting rocks for her kid's pirate party (before making grandpa "walk the plank" into the pool).
But it was Louise from Glenelg North who had the team in stitches with her story about the dinosaur biscuits that didn't quite turn out to look like dinosaurs.
Want more? Listen to one of our favourite moments from Erin Phillips & Soda – Tune in weekdays from 6AM on Mix102.3!