Mix102.3 breakfast hosts Jodie and Soda promised regular guest Travis Boak a surprise if he won the Peter Badcoe Medal during the Power's ANZAC Round clash with North Melbourne on Friday night.
Boak, who is in such good form he's getting talked about as a Brownlow Medal chance, promptly went out and won the coveted medal (for the third time).
True to their word, Jodie and Soda organised not one but two surprises when he came back into the Mix102.3 studio.
It was great timing for a surprise because on Friday night, Boak plays his 250th AFL game against Collingwood at Marvel Stadium.
The surprises started with a custom-made cake with Boak's image on it from Heidelberg Cakes. Then Soda told him there was a Power fan on the line that wanted to wish him luck for Friday.
It turned out to be Boak's mum, Chicki. watch the video above.
"How did you get my mum to go on radio," was Boak's first reaction about his typically media-shy mum.
Chicki and Travis both went on to open up about losing their husband and father Roger in 2005, one year before Boak joined the Power.
"It was pretty hard at the time, seeing what he had to go through with watching his father get sick and pass away and ring an ambulance because he had to be rushed to hospital again," Chicki said.
"They (children) all grew up pretty quick and matured a lot.
"He's been incredible. Such a great support to myself and the girls and we've just been such a great family unit."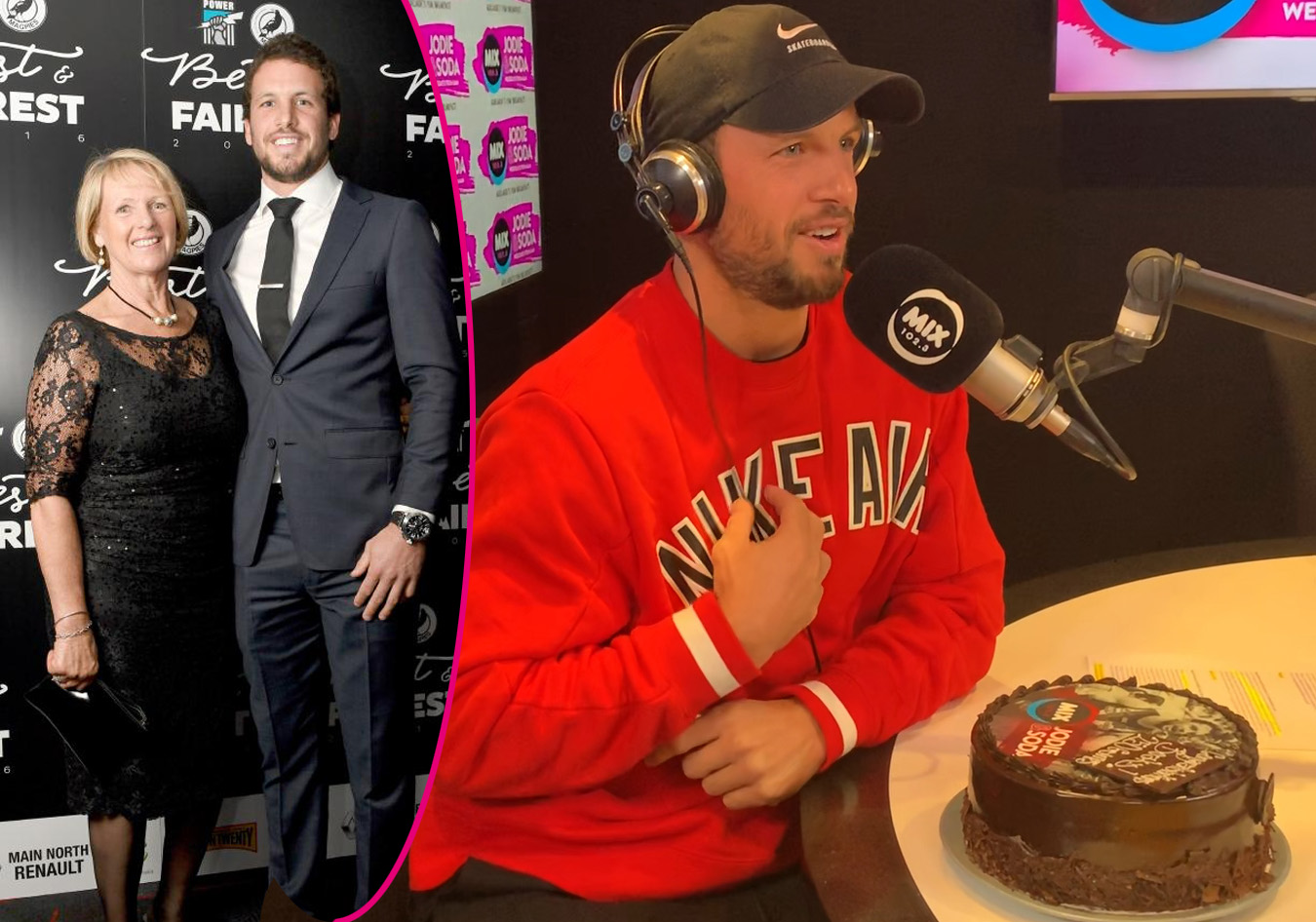 Travis said his mum had been "the rock for the family".
"There's so much that myself and my sisters have learned from mum, like empathy and how to care for people," he said.
"What she was able to do for dad during that time was incredible and to see that is sort of how we've grown up now and care for other people (now) just because of what mum has done.
"She puts everyone else before her self and there's no way I would be playing 250 games this week without the support of mum."
Travis has since started an underwear label 'Rogers', inspired by his dad.
MORE: Jodie and Soda interview Boaky in his sauna at his house!
Want more? Listen to one of our favourite moments from The Ali Clarke Breakfast Show – Tune in weekdays from 6AM on Mix102.3!