Jodie and Soda have given Travis Boak his first look at vision of his teammates celebrating in an unusual way following the Power's great win over West Coast in Perth on Good Friday.
Vision of a Power player reaching back and grabbing at the pelvic region of one his teammates went viral over Easter, with it registering more than 100,000 views on popular Instagram account S***Adelaide.
Watch Boak's reaction – and see the bizarre 'celebration' – in the video above.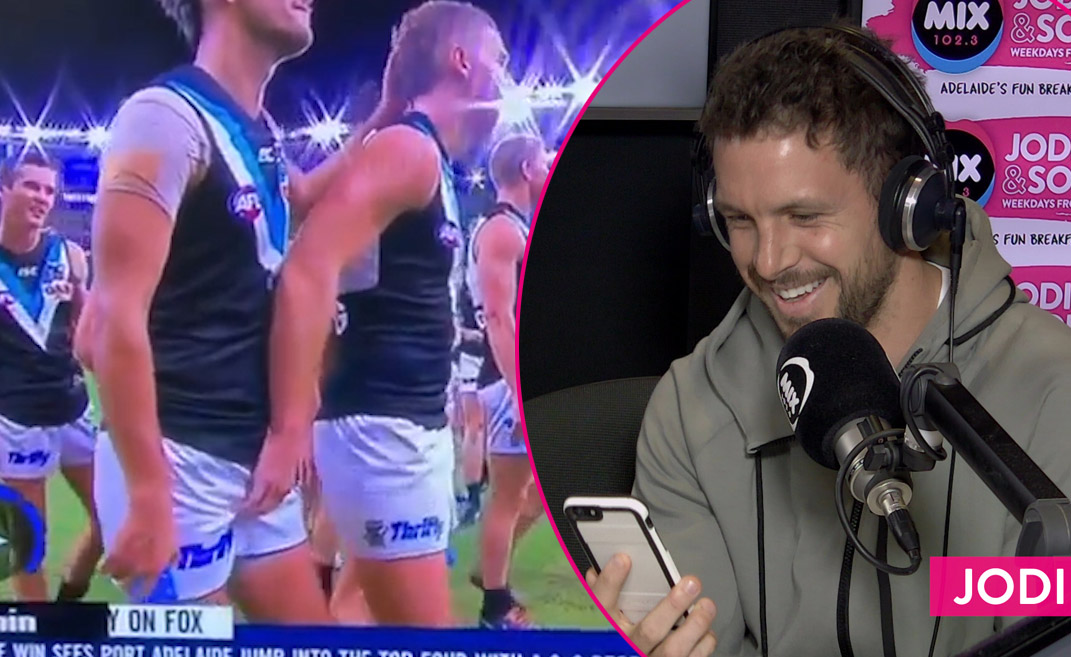 What exactly was going on we're still not sure.
"I think that bloke must have had a sore groin and he's helping him out," Boak offered.
"He's just making sure that down there's all good and he doesn't need to go to the doctor."
Jodie, Soda and Trav were only looking at a photo with the heads of the players chopped off so the trio could only speculate as to who was involved with Tom Clurey and Robbie Gray's names thrown up.
"I think it could be me actually," Boak laughed.
But the video confirmed it was actually Dan Houston reaching back for his mate, Riley Bonner.
I guess we'll have to ask them what was happening.
A regular weekly guest on Jodie and Soda's breakfast show on Mix102.3, Travis Boak has been in outstanding form so far this season, some of which Soda credits to the sauna that Boak had installed in his home and was trialled by Jodie and Soda a few weeks ago.
Want more? Listen to one of our favourite moments from The Ali Clarke Breakfast Show – Tune in weekdays from 6AM on Mix102.3!