Adelaide's very own Tasmanian Tiger King, Neil Waters, has claimed he has found a family of living Tasmanian Tigers and has now released footage of his discovery.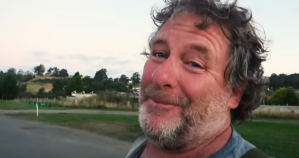 Having spent the last 7 years trekking hundreds of kilometres through the rough Tasmanian bush and dedicating his life to the search for the long-extinct Tasmanian Tiger (Thylacinus cynocephalus), Neil Waters believes he has finally found a family of Tassie tigers.
Waters is the President of the Thylacine Awareness Group Of Australia, where members search and discuss the search for Tassie Tigers.
In a video released yesterday, Waters revealed the images of what he believes is a Thylacine joey. The images were captured by a remote trail camera.
Waters says in the video "My vet with over 30 years experience says there's no way that's a cat, with a muzzle that long." He believes the larger animal could be the mother.
Waters highlighted the length of the muzzle, the stripes, the straight tail, and the shape of the head which distinguish that this footage captures a Tasmanian Tiger.
Interviewing wildlife experts, whose names have been withheld for protection, the expert stated that "It's definitely not the colour of a Tasmanian Devil", with the other adding "No, or the shape either."
"With the photos we have seen we can rule out a dog and rule out cat," an expert said.
The description of the video states "These photos are not fake, this is not a hoax, our experts are real people, not actors."
The Tasmanian Tiger hunters have come under much public scrutiny for their relentless search. The last known Tasmanian Tiger died in Hobart Zoo in 1936.
View the full video below.