The world's largest crocodile in captivity is celebrating its 120th birthday, maybe, actually it's all confusing I'm not too sure.
It's because no one really knows the age of Cassius the over 5 metre long crocodile who resides in the Marineland Croc Park near the Great Barrier Reef.
Graeme Webb talked with the ABC about Cassius' capture that happened in Darwin in 1984 when Webb was in his 30's.
"He was a big old gnarly crocodile then … crocs of that size are not normal," Webb said. "He was 16 feet, 10 inches with at least another 6 inches of tail missing and a bit of a snout missing."
Professor Webb recently visited Cassius after almost 20 years, observing he had grown more, "which is unusual for a big croc".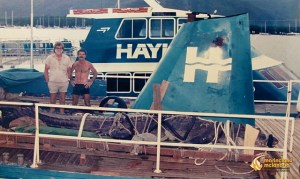 So then how old is Cassius really?
Professor Webb revealed to the ABC that Cassius was between 30 and 80 years old at the time of capture.
"He's quite possibly over a century — maybe 120 years," the professor said.
When asked about how long the monster has left the crocodile keeper said "I'd like to think he's got a few more years left in him."
So we wish Cassius a Happy Birthday and hope for ~120 more!
All photos thanks to Marineland Crocodile Park
Want more? Listen to one of our favourite moments from The Ali Clarke Breakfast Show – Tune in weekdays from 6AM on Mix102.3!