The owner of Buonasera Restaurant, Ilario Nesci, has been left stumped as a fiberglass pig has mysteriously appeared on his restaurant's roof.
The restaurant posted on Facebook "They say that pigs don't fly. Would you believe it. Found this on my roof top today. Anyone know what is going on."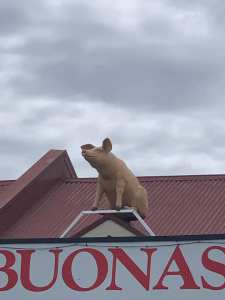 Not just simply placed, but professionally installed, Mr Nesci has said he did not order the pig but it somehow appeared between Sunday night and Tuesday morning at the eatery on Glen Osmond Road.
"This morning I came as usual to work, and before I start work I go for a walk," Mr Nesci said to ABC Radio Adelaide.
"I went around Wattle Street and down Fullarton Road, and on the way back when I got to Glen Osmond Road … I just looked on the roof and saw this huge pig on my roof.
The pig can be seen sitting proudly atop of the building, notable in size at around 100kg and similar to the famous pigs in Rundle Mall. Perhaps one of the brass pigs wanted a change of scenery.
Mr Nesci has said he has no plans of removing the pig as it will cost him money and the prank did not annoy him.
Want more? Listen to one of our favourite moments from Erin Phillips & Soda – Tune in weekdays from 6AM on Mix102.3!