If you were to have predicted who would become the cult heroes of 2020 back in February, we doubt that you would have even considered Dr Nicola Spurrier the state's chief public health officer.
But Dr Spurrier has become the unlikely poster child of South Australia through the pandemic.
South Aussies have coined the phrase 'In Nicola We Trust', she has been dubbed St Nicola and has even popularised a hairstyle: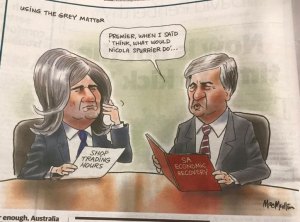 But perhaps the biggest honour is the cocktail named after her at Adelaide rooftop bar 2KW.
Jodie and Soda caught up with Dr Spurrier this morning, and she offered her thoughts on the drink:

Want more? Listen to one of our favourite moments from Erin Phillips & Soda – Tune in weekdays from 6AM on Mix102.3!