If you didn't know already, tucked away on Bank Street, Adelaide lives a little wizard-themed bar that gives us all the Harry Potter vibes.
It may be small, but their cocktails are mighty. The Sorcerer's Bar is only big enough to fit 15 people inside but makes up for the small space with the most magical cocktails we've ever seen. From bubbling brews to smoking cauldrons, this is every wizard or witch's dream bar.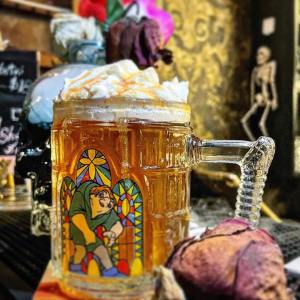 What's more magical than Harry Potter? The Sorcerer's Bar is serving up the iconic Butterbeer from Harry Potter. For just $15 every Thursday you can experience a slice of magic we all wish we had by enjoying a smooth Butterscotch beer in the dead of winter. They also have Butterbeer shots if a quick hit is what you're after.
If Butterbeer doesn't take your fancy, then how about a Dragon's Blood shot or a glowing Truth Serum? They're always testing new potions especially during the holiday season so make sure to keep up to date with their socials to see what they'll come up with next.
Created by siblings Than and Tira Rattanakosit, they wanted to create something that hasn't been seen before in Adelaide. Inspired by their love of Harry Potter and Sabrina, they thought why not do a wizardry bar? Decked with antique wallpaper, wands, brooms, and a picture wall with famous alchemists, you're sure not to miss this unique bar.
Head over to 25B Bank Street, Adelaide and experience the magic for yourself!
Want more? Listen to one of our favourite moments from The Ali Clarke Breakfast Show – Tune in weekdays from 6AM on Mix102.3!