We may not get all the concerts and we might have to wait for the new shops, but our time has finally arrived.
McDonald's are planning an expansion of their chicken menu which may include the burger of our dreams… the Parmi Burger
The burger is just like it sounds – crispy fried chicken, bacon and parmigiana and cheese sauce.
That's not all that the great people of SA can sink their teeth into. Once the Parmi Burger leaves stories on March 3rd, you can head back in store to try the Asian-inspired Terikayi Burger. Yep, it's a thing.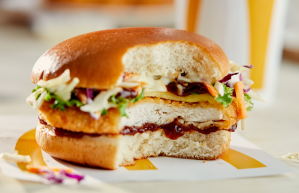 The new chicken range also includes new Spicy Shaker Tenders, Chicken Salt Shaker Fries and a Chicken Pickle Burger.
As mentioned, the range is only available in South Australia stores for now, however those in the rest of Australia can try something new from Maccas' new Spicy Range. It includes variations of McChicken, including Spicy Mayo, Jalapeno and Sriracha.
Want more? Listen to one of our favourite moments from The Ali Clarke Breakfast Show – Tune in weekdays from 6AM on Mix102.3!