As we all know The Lodge Hotel doesn't mess around when it comes to cocktail hour. And this time they're three times as serious.
We usually see one cocktail of the month, but for June they're giving us THREE! It may only be June, but it feels like Christmas.
Starting off the $10 cocktail specials is the Caramello Koala Martini which they brought back due to popular demand. Featuring vodka, baileys, chocolate drizzle and topped with everyone's favourite, a Caramello Koala.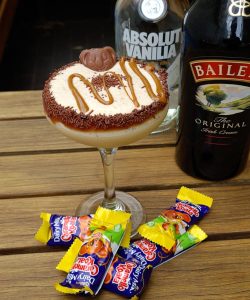 Next up on your cocktail night (or day) is a Mango Margarita with tequila, triple sec, mango liqueur and mango. You'll basically feel like you're on a tropical holiday while sipping on this.
And lastly, also my personal favourite, is Nerdy Grape! A mix of delicious raspberry vodka, triple sec and crem de cassis, with a Nerd rimmed glass.
Head down to The Lodge Hotel at 1572 Main North Road, Brahma Lodge Adelaide and give one (or all) of the cocktails a go. Keep up with their socials to see what they're whipping up next!