Grazing platter on a board is soooooooo last week. Now you can have it in cone form and we're converted.
The Adelaide-based local business Luxurious Grazing has found a gap in the grazing platter market and filled it with a cone full of delicious platter goodness.
Luxurious Grazing is calling them Charcuterie Cones and they're the new, innovative and convenient way to handle your grazing picks and socially distance at events.
Owner Teresa Rowe said to Glam Adelaide that "They're handful-sized, so they're no fuss and easy to hold, and with COVID, it's an easier option having individual items for socially distanced catering,"
"And this way, you can have a charcuterie cone in one hand and a glass of wine in the other!"
Oh, Teresa, you know us too well.
Luxurious Grazing isn't stingy with their Charcuterie Cones, filling them with easy-to-eat skewers of salami, pistachio-rolled cheese, olives, cucumbers, tomatoes, strawberries, and mixed berry crackers.
For your next event, this is a MUST! Or if you're happy with grazing platters they have the most delicious options.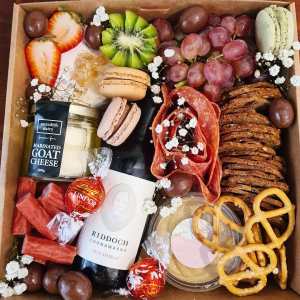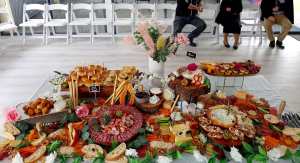 Check out Luxurious Grazing's offerings and charcuterie cones, on Instagram, and on Facebook.
Want more? Listen to one of our favourite moments from The Ali Clarke Breakfast Show – Tune in weekdays from 6AM on Mix102.3!