Natasha and Robyn are 38-year-old twin sisters, who have just met their real Dad for the very first time.
After finding out at age 14 that their 'Dad' was not their biological father, they embarked on a search that lasted 24 years but finally concluded yesterday with a little help from Jodie and Soda, and Fasta Pasta.
Watch the incredible moment in the video above as the three of them come face-to-face for the very first time.
Natasha's husband Steven secretly entered her in Jodie and Soda's "Father's Day Reunion" promotion with Fasta Pasta that promised to bring a Dad and his kids together again.
Little did we imagine we would be able to bring a Dad together with 38-year-old twin daughters for the very first time. But that's exactly what we did.
Natasha and Robyn had spent decades looking for Arthur, including working with ancestory.com trying to find a DNA match that would lead them to their Dad. Six months ago, someone in the USA offered to help them as she had experience in difficult searches and within a month they had a hit.
It led them to finding Arthur in his home in country Western Australia that he shares with his wife and two children aged 19 and 17.
Arthur didn't quite believe it when his daughters first contacted him earlier this year. He knew the name of their mother when they mentioned it to him – it was an ex-girlfriend he had lost contact with.
"We split up and she went her way and I went my way and I never heard from her again," he said.
"I thought someone was trying to scam me money, then I realised it was true and it was happiness and shock all into one."
Since the positive DNA test a few months ago, Arthur and his newfound daughters (and five grandchildren) have been in regular contact via the phone, including Facetime, as they get to know one another.
But they thought it would be a long time, if ever, before they were all face-to-face.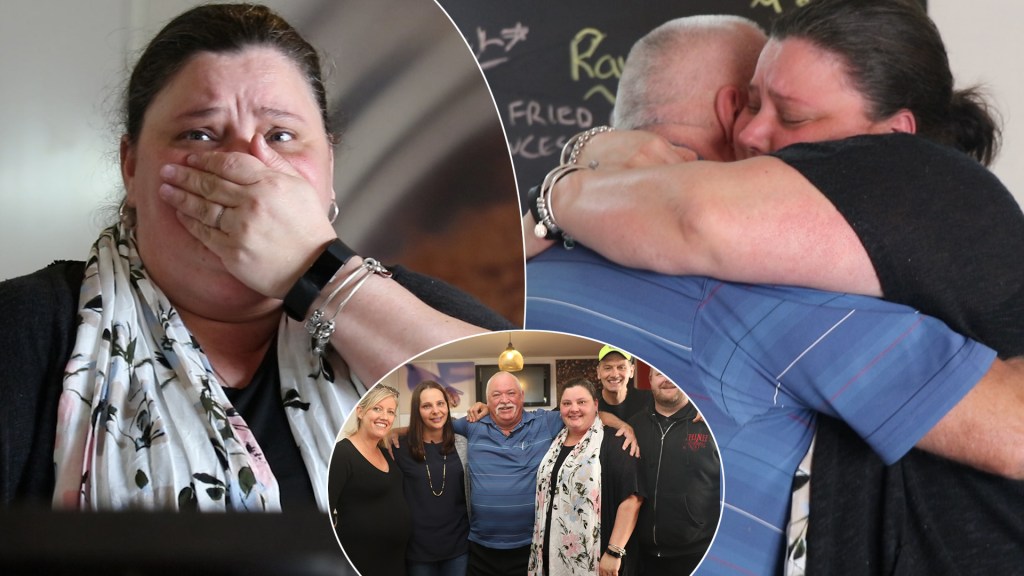 Arthur lives in Geraldton in WA, thousands of kilometres from Natasha in Adelaide, and Robyn lives even further away again in Wagga in NSW. With money being tight, it seemed impossible to get everyone together.
But yesterday they got the moment they'd barely dared to dream of.
Natasha knew nothing of the arrangements, with husband Steven keeping the plans with Mix102.3 all a secret. Arthur knew he was flying in to meet Natasha but neither of them knew we'd also arranged to get Robyn there for the big moment too.
To say it was emotional would be an understatement.
Watch it all unfold in the video above.