Another day, another weather warning, but this time it's due to hit Adelaide directly.
South Australia's Bureau of Meteorology has issued a Severe Weather Warning for Tuesday afternoon, as we deal with a cold front approaching for a second consecutive day.
Strong to damaging winds and squally showers are expected to hit the Adelaide CBD and suburbs in the coming hours, with gusts of more than 100km/h possible.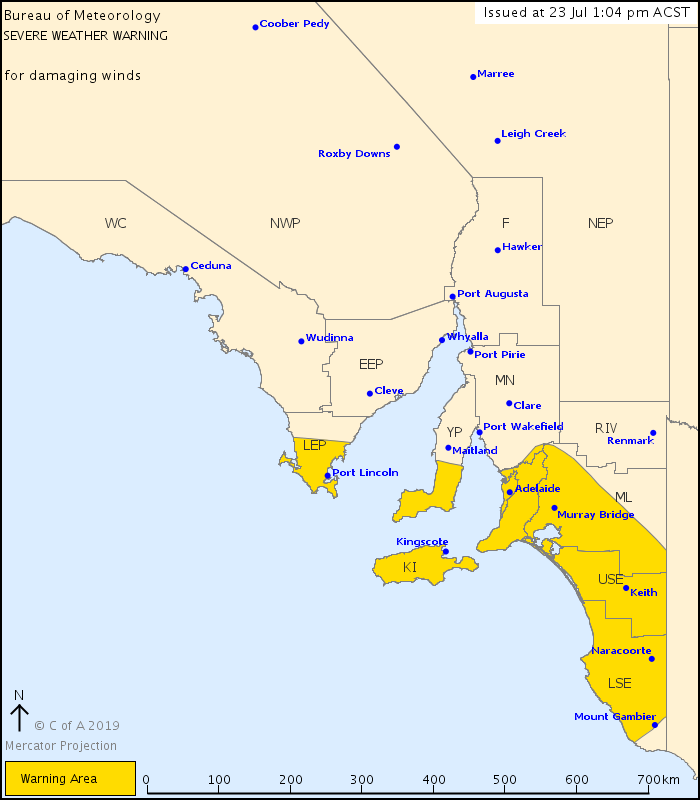 SA Police and the State Emergency Service both issued their own warnings to Adelaide residents, including reminders about how to drive in wild conditions.
Police said drivers needed to "slow down, be alert and pay attention at all times", and issued the below list of safety measures…
Be alert at all times, pay attention to road warning signs that display hazardous conditions
Drive with headlights on at times of poor visibility
Ensure your windscreen is clean and is demisted, and wiper blades are in good condition
Ensure your vehicle is roadworthy and the tyres are in good condition and are correctly inflated, and
Leave plenty of space between your vehicle and the vehicle ahead of you.
Meanwhile, the SES advised that people should:
Move vehicles under cover or away from trees
Secure or put away loose items around your property.
Stay indoors, away from windows, while conditions are severe.
#SAweatherWarnings updated to include #Adelaide for Tuesday. Notable wind gusts so far…. 106 km/h at Strathalbyn, 98 km/h at Hindmarsh Island and 89 km/h at Mount Gambier. Stay up to date with latest warnings: https://t.co/LNvlwagtQH pic.twitter.com/xq7U059rCw

— Bureau of Meteorology, South Australia (@BOM_SA) July 22, 2019
Doesn't sound great but hey, it's only 131 days until Summer.