Mix102.3 Breakfast host Jodie Oddy says she's now proud to be able to speak out about her mental health battle in a bid to help others going through it.
Jodie opened up to co-host Soda and the Mix102.3 listeners about being diagnosed with depression, saying it left her wanting to escape all her responsibilities and just sleep for "days and days".
Her sharing came on 'R U OK Day', which aims to encourage everyone to have conversations about their mental health and speak up when things get bad.
Watch the video above as Jodie speaks from the heart about her mental health battles over the past two years.
Jodie, who is due to give birth to her fourth child in the coming weeks, said it wasn't until she asked for help that she was able to "escape the rabbit hole" and realise there's "so much to live for".
"I want to talk about this because I feel like on 'R U OK Day' it's the perfect platform for everyone to have this discussion because we're all walking around like we are OK and guess what most of us are not," Jodie began.
"It's particularly hard for you blokes because I think as women we talk about our feelings and emotions, you guys don't and it becomes infinitely harder when you do not."
Jodie said she was first diagnosed with depression in February last year and suffered a mental breakdown after "self-medicating".
"It was such a strange situation to be in where you feel so much pain but there's no physical scars," she said.
"I can look back on it now and it was a perfect storm (for a breakdown). I was working ridiculous hours, I was over tired, and some other stuff was going on.
"And I didn't help myself because I tried to mask it with self-medication and that doesn't work guys – a big tip, it will make it worse."
At her worst, Jodie said she didn't want to deal with any of the responsibilities in her life.
"You just want to sleep for days and days and not have to deal with the demands of life," she said.
"I wanted someone to pick me up and take me away from my life where I wasn't responsible for being a Mum, I wasn't responsible for what comes with this job (at Mix102.3), and where I wasn't responsible for fixing the relationships that I'd broken because I was so down far the rabbit hole."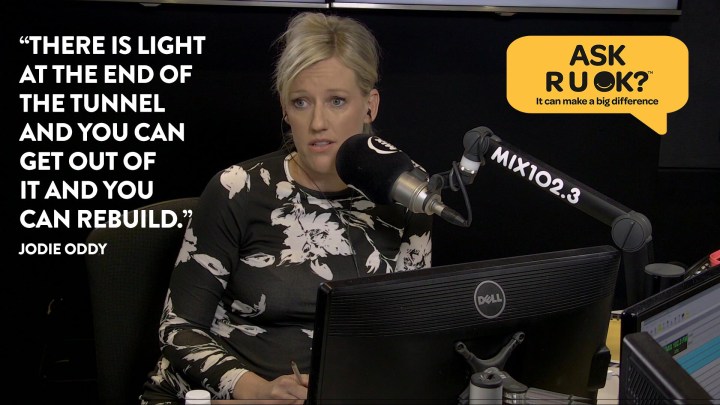 'R U OK Day' encourages everyone to treat mental illness the way we would treat someone with an obvious physical injury like a broken leg.
'R U OK Day' spokesperson and former NSW Liberal leader John Brogden told Jodie and Soda if we see someone with a physical injury we put them in an ambulance and take them to hospital and we need the same response to people who are struggling mentally – by not leaving them to deal with it on their own but by calling Lifeline on 13 11 14.
"That advice really resonated with me," Jodie said.
"You're looking at your body going 'well, physically I look OK but I'd feel better if I had a broken leg, at least I could explain it away' but because you feel this anguish in your mind there's nothing to show for it and it's really strange."
Her advice for others was particularly powerful and delivered from the heart.
"What I will say is that you need to ask for help," she said. "You have to, you won't get out of it by yourself.
"I did that and I got out of the rabbit hole and I feel infinitely better as a human being now and I am so proud of myself for that and that's why I'm not afraid to talk about it now.
"There is light at the end of the tunnel and you can get out of it and you can rebuild. It's always darkest before the dawn, it really is.
"But there's so much to live for, and when that pain goes away and you can start to enjoy life again you will think 'why did I ever feel that way'.
"It's such a simple message but it can get better, tomorrow is always a new day, the sun will always rise, and there will always be opportunities to find love in places you never knew existed."