With more than 17,000 fines being dished out last year in SA for breaking road rules around schools, it's time to stop gunning it through the amber light ESPECIALLY when kids are about.
In the chaos that is the school rush, it may seem conflicting to slow down, but it may save you money and prevent the worst from happening.
Over $6.5m was paid in 2020 for the offences with the majority being caught through fixed speeding cameras and running red lights at school pedestrians. Drivers were also caught speeding in 25km/h and failing to give way at school crossings.
Due to the reduced amount of traffic on the roads in 2020 because of COVID-19, there was a reduction of fines from 2019 with 20,494 to 15,089 for camera speed fines and red lights from 3044 to 2061.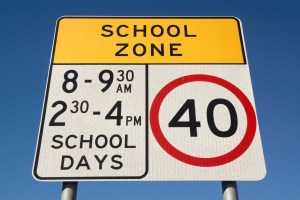 RAA senior manager of safety and infrastructure Charles Mountain said in The Advertiser "Speeding, running red lights and failing to give way can have potentially catastrophic consequences,''
"Pedestrians – especially young children – are among the most vulnerable road users and RAA urges motorists to exercise vigilance and caution around schools.''
With schools returning from today, slow down around school areas and particularly during drop-off and pick-up time.