Jodie and Greg Oddy have celebrated the arrival of their baby girl on social media, describing her as "a million shades of perfect".
Harper Billie Oddy arrived on Friday, 4 October 2019.
She is Jodie's fourth daughter, and the third for Greg and Jodie. Her proud sisters are Taylor 18, Payton, 8 and Summer, 6.
Greg was first to break the news online with the perfect comment: "What's better than living with 4 girls? Living with 5…"
"We could not be more in love," he wrote while announcing Harper's full name and birthdate.
He posted two photos – one of Jodie absolutely beaming during what appears to be the first time she held her new daughter, and a close-up of a peaceful Harper sleeping.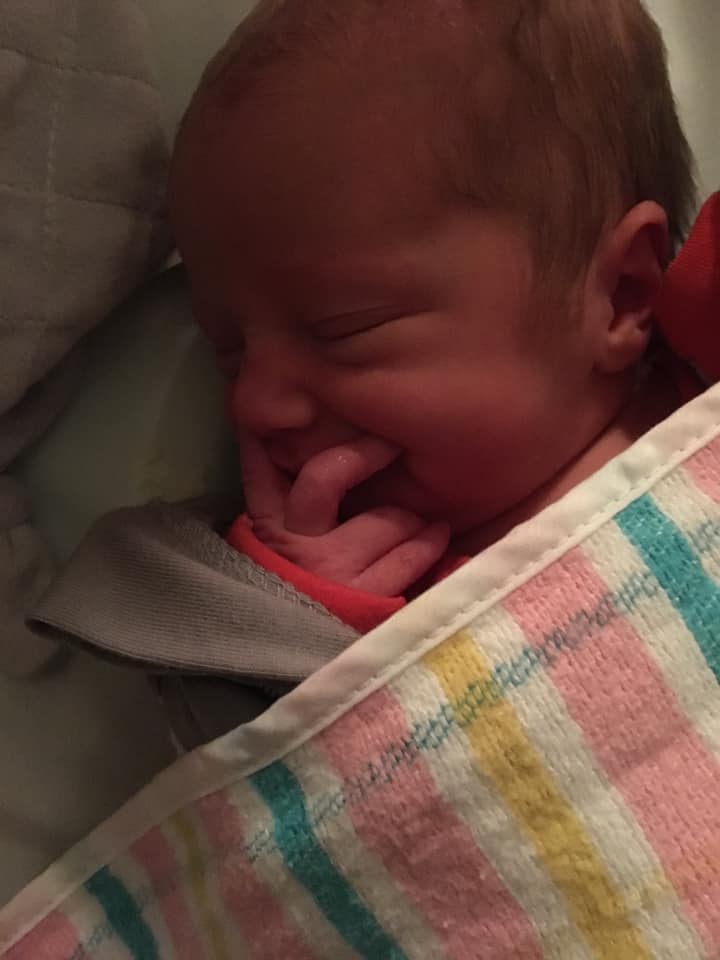 Jodie posted on her private social media accounts soon after, with a reference to a photo of Harper's pursed lips.
"She has arrived, with the perfect duckface Insta pout," Jodie wrote.
Jodie had speculated that this child could be her first son, as she noticed considerably more kicking and moving in comparison to her other three. But she always said she simply wouldn't have known what to do with a boy!
"Harper Billie Oddy proves what we've all long suspected… we only do girls," Jodie said.
"Thanks to the universe for bringing you to us, you're a million shades of perfect ❤️❤️❤️"
Jodie is clearly already enjoying the even greater dominance of females in the Oddy household with a later post making light of Greg being the only male in the house. She even added that he'd managed to make a new emoji for himself: 🏃‍♂️💁‍♀️👩‍👩‍👧‍👧
The photos told an entirely different story though with Greg and Summer snuggling up on the bed next to Payton holding Harper, all of them looking so happy and proud.
Jodie started maternity leave from Mix102.3 two weeks ago, saying a teary farewell to Soda and the Mix family.
"I feel really, really, really ready to meet this little baby," Jodie said through tears on 20 September.
"I can't describe in words how much meeting this child will mean to me on so many levels.
"I know it's my last so it's a really special time."
Jodie shocked everyone in March – including her Mum – when she announced she was pregnant with her fourth child at the age of 42.
She had endured one of the more difficult experiences of her pregnancy when she rode a ferris wheel for six hours with Soda (in a world-record attempt of 52 hours), eventually retiring due to 'motion sickness' that later was revealed as morning sickness.
Jodie will take some time to enjoy the arrival of Harper Billie, with her maternity leave extending until the end of the year. Jodie's chair will be filled by Michelle Murphy this week, before Jessica Adamson joins Soda before the show takes its Christmas break.
We'll let Soda announce the winner of the 'guess Jodie's baby's name' competition that was running in the lead up to the birth but we did notice that Harper IS on the list of already guessed names so hopefully that will mean someone is $1,000 richer for guessing the name!
Want more? Listen to one of our favourite moments from The Ali Clarke Breakfast Show – Tune in weekdays from 6AM on Mix102.3!