Mix102.3 breakfast host Mark 'Soda' Soderstrom seemed to be a man who could do anything he put his mind to.
Earlier this year, he took on and beat a Guinness World Record, staying awake while riding a ferris wheel for 52 hours. Then he ate a 4.2kg steak, the biggest ever eaten at Gaucho's. A week later he completed the New York Marathon in less than four hours.
But today, Soda has finally met his match and admitted defeat.
Watch video snippets from Soda's taco-eating challenge above.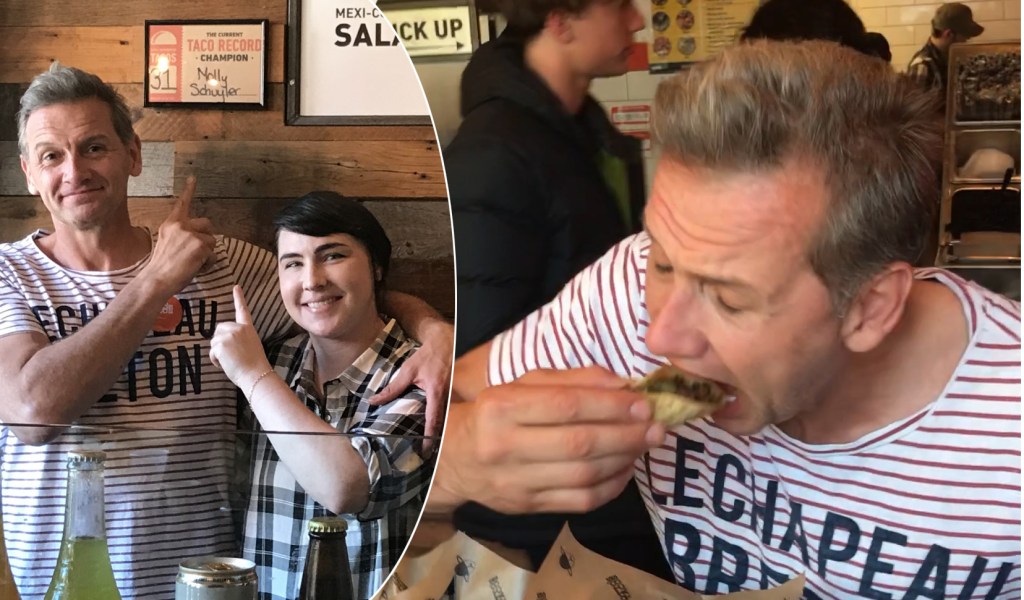 He was brought undone by chicken that was "drier than a dead dingos donger" and brussel sprout tacos that were "absolutely horrendous".
Listen below as Soda takes us through what happened when he attempted to break a tacos eating record in New York.

After yesterday's New York Marathon, Soda decided today was the perfect day to "reload carbs and calories" and eat as much as he could to become a record holder once again.
After perusing a range of eating challenges available in arguably the gastronomical capital of the world, Soda settled on Otto's Tacos on 2nd Ave where the record for the most soft shell tacos eaten in one hour is 31.
That record was set two years ago by Molly Schuyler, a professional eater, who once ate 2kg of steak in 2 minutes and 44 seconds to set a world record.
So when Soda walked into Otto's earlier this morning (our time) and told them he was going to break the record, they laughed at him.
"No-one can do it," he was told. "Everyone stops before they get half-way because they know they are in way over their head."
Well, not Soda.
He got through 20 chicken tacos but had a problem because they were, in his words, "drier than a dead dingo's donger"… "even with the sauces".
He had actually intended to knock off the record by eating their vegetarian tacos, which were usually mushroom.
But today he found out their vegetarian option was brussel sprout tacos.
"I was going to go mushroom and she said mushroom isn't the vegetarian option today, it's brussel sprout.
"So I've smashed another five brussel sprout (but) they were absolutely horrendous. I actually felt sick.
"It was the taste that was stopping me from getting them down.
"I've had to pull the pin at 26 tacos, Ottos has beaten me."
Lol! Love the article!! Waiting to come back and re up the number! They only let me beat it by one 🤪🌮 https://t.co/ETnQbQ1fLg

— Molly Schuyler (@MollySchuyler) November 4, 2019
You are a machine @MollySchuyler 👏

I had a crack at your record about 4 hours ago and feel horrendous right now and still have the sweats 😓

🌮🌮🌮🌮🌮🌮🌮🌮🌮🌮🌮🌮🌮🌮🌮🌮🌮🌮🌮🌮🌮🌮🌮🌮🌮🌮🌮🌮🌮🌮🌮🌮 https://t.co/zmdBNIhQga

— Mark Soderstrom (@Mark_Soda) November 4, 2019
He was told by the staff: "you got a lot closer than the average person that comes in, I'm sure you'll make Adelaide very proud."
Well, we're not sure about that.
Soda now says he's feeling worse than he did 24 hours ago when he ran that 42km marathon.
Jess said she's never seen him look worse.