School is back today so it only seemed fitting that we took Soda for a quick trip down memory lane.
Erin managed to get her hands on a piece of history from Mrs Soda, Soda's Year 6 news book.
Apparently, back in Soda's day, there were no limits as to what you could report on…or how graphic. His teacher left the comment "Remember: – Summarising is not only a matter of changing a few words."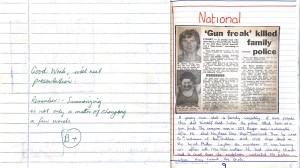 Find out what exactly Soda was reporting on at 11 years old below.