If this doesn't touch your heart, nothing will.
Chris Hartley is the President of the Childhood Cancer Association, who himself has experienced the devastation of having a child diagnosed with cancer.
His son Thomas was first diagnosed with cancer at just six months old and then relapsed when he was seven years old.
He endured more than a year of chemotherapy before he was two years old then had another 12 months of treatment after his seventh birthday.
The physical impact on a child going through cancer can be obvious but this morning we learned about the emotional and social impact it can have.
BUY NOW: Support the Kids Oncology Playgroup by purchasing Rogers Underwear for Father's Day here.
The story of Thomas wanting to have a birthday party soon after he started school is heartbreaking. Watch it in the video above.
"It must have been his first or second year of primary school he said to me on the way to school can I have a birthday party this year and I said absolutely Thomas you can invite six or seven people," Chris told Jodie and Soda this morning.
"That afternoon I picked him up from school and his teacher called me over and she said Thomas has invited some of the staff to his birthday party and we can't really do that' and I said 'no that's fine, I'll talk to him'.
"So in the car I asked why did you invite the teachers and he said because I only just want to have a normal birthday party and I don't have any friends to invite.
"So that's six or seven years ago and it still makes me really sad, it ripped my heart out.
"Kids going through all that other stuff (with cancer) they shouldn't have to go through that as well.
"You know what it's like when you're at primary school, the most important thing is having mates around you and Thomas used to spend his time walking around talking to the teachers on yard duty."
It's little wonder Chris is super-passionate and invested about the Childhood Cancer Association's Kids Oncology Playgroup.
It gives kids with cancer – like Thomas – who can't go to a regular playgroup due to the debilitating effect their cancer and treatment has on their immune system – a chance to socialise.
Childhood Cancer Association ambassadors Jodie, Soda and Travis Boak have launched a campaign – #GetIntoBoakysPants – to raise the $10,000 needed to keep the Kids Oncology Playgroup going for a year.
Everyone who purchases something from Boak's underwear label, Rogers Underwear, before Father's Day, will see 100% of the profits go to Childhood Cancer Association.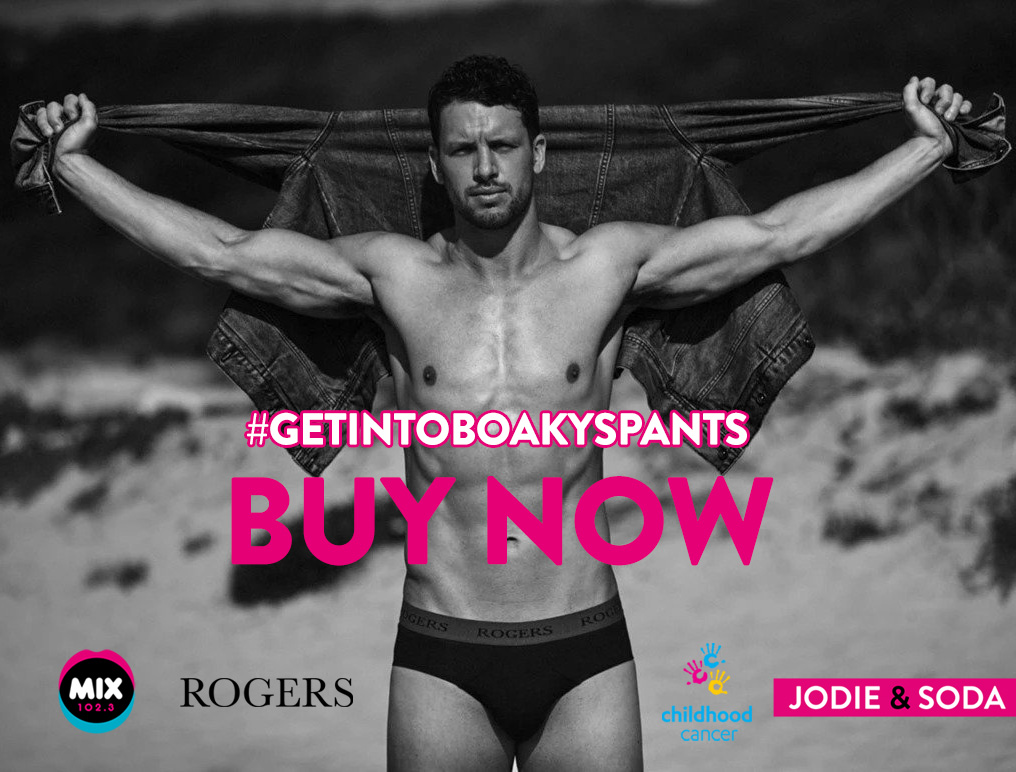 Want more? Listen to one of our favourite moments from The Ali Clarke Breakfast Show – Tune in weekdays from 6AM on Mix102.3!