He was coming, then he wasn't coming, now he is coming, and Rob Thomas fans have started snapping up the first tickets to see the Matchbox 20 front man in Adelaide.
The Rob Thomas 'Chip Tooth Tour' was launched in Australia more than a month ago without a date for Adelaide, although curiously a tour poster leaked online that did feature Adelaide.
It got everyone talking, will he or won't he add that Adelaide date?
Late last week, Rob's South Australian fans' prayers were answered when he was named as the headline act for 'A Day On The Green' at Leconfield Wines in McLaren Vale.
The event is on Sunday 10 November, 2019 (just like the poster said).
He will be supported by Pete Murray, Russell Morris and Emily Wurramara.
Pre-sale tickets were first made available to Rob Thomas Fan Club members on Monday morning at 11am.
There will also be pre-sales for My Ticketmaster Members and A Day On The Green Members, before tickets are released to the general public on Monday 22 July at 10am.
If you'd like to sign up for the A Day On The Green members pre-sale (which starts on Tuesday at 2pm), head here.
There are reserved seating sections in front of the stage (split into diamond, platinum and gold categories), then a general admission (grass) area behind the seats.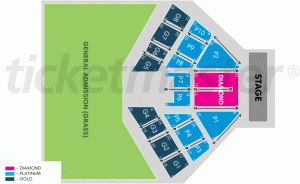 General admission tickets are $114.90 plus booking fees, while the closest reserved seats (front diamond) are $229.90 plus fees.
VIP 'Meet and Greet' experiences are also available for the super-keen. They go for close to $900.
All tickets are on sale here, via Ticketmaster.
Want more? Listen to one of our favourite moments from Erin Phillips & Soda – Tune in weekdays from 6AM on Mix102.3!