Soda was astonished when he saw photos of a man who tried to creatively move his fridge by strapping it to the back of his car.
The pictures were posted by NSW Police, showing the fridge balancing on the boot of his car, with straps tying it to the car.
It would've been quite the sight, seeing a full sized fridge on the back of a commodore. But the best part, which Erin pointed out was that "the magnets are still on the fridge!"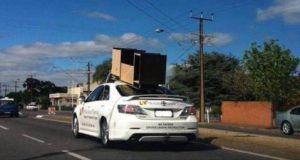 Darren DM'd us to highlight this picture, saying "One year ago in Adelaide. Made the papers due to a driving instructor."
Hear the full chat here:
Want more? Listen to one of our favourite moments from Erin Phillips & Soda – Tune in weekdays from 6AM on Mix102.3!