I never thought I'd see the day where I was faced with the potential of having too-much cheese, but this one may just stop me dead in my tracks… LITERALLY!
This week Burger King in Thailand has introduced the most over-the-top, cheesealicious experience even die-hard cheese lovers would find hard to swallow, featuring no meat and 20 slices of American Cheddar!
"This is no joke. This is for real," Burger King said on its socials. "The real cheeseburger is full of flavour for those who love cheese."
A reviewer for Lifestyle Asia tasted the burger for themselves and shared their review online.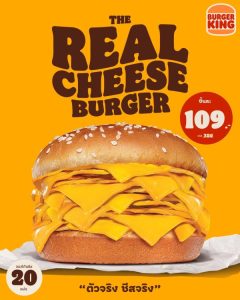 "It isn't really shocking that it's bad," they wrote. "It's literally burger bun, 20 slices of cheese, and burger bun. There's no sauce… and it was as revolting as you thought it would be: dry, a shock to the digestive system, and literally a thousand calories worth of unnecessary processed cheese."
Could you do it? I'd love to have a crack but I'd have to have the paddles ready to resuscitate me should and when my arteries clog!
Want more? Listen to one of our favourite moments from The Ali Clarke Breakfast Show – Tune in weekdays from 6AM on Mix102.3!