The suburb of Thebarton is on the cusp of a remarkable transformation, turning its industrial core into a vibrant urban oasis. A forward-looking vision, presented by the national architecture firm Architectus, envisions a revitalized riverside precinct. This area will feature an array of buildings and spaces dedicated to health, innovation, mixed housing, commercial activities, and communal zones, including a striking amphitheater for events and entertainment.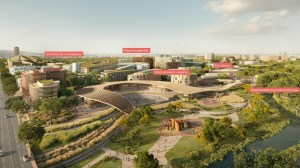 Covering the northern half of Thebarton, encompassing 50 hectares, the plan repurposes predominantly industrial land, bounded by Port Rd to the east, the River Torrens to the north, and South Rd to the west. It encompasses key sites like the former Coca-Cola location and the recently acquired former West End brewery by Renewal SA.
Architectus' vision emerges as part of its annual Design Charrette initiative, involving their designers and collaborators in analyzing urban precincts and devising innovative regeneration concepts. Thebarton, they argue, is ripe for renewal due to its strategic location, sitting between the emerging health and innovation precinct on North Terrace in the CBD and the natural beauty of the River Torrens. It also enjoys proximity to parklands, transportation, and essential services.
The comprehensive master plan includes 3,200 apartments and townhouses, with 30% of these earmarked as affordable housing. Commercial office spaces will be designed to nurture innovation, startups, and creative industries. Additionally, the development will feature three hotels catering to various budgets and retail and food outlets along a newly designed pedestrian avenue. One of the standout features will be the amphitheater, adorned with an "eel-like arbour" structure, which will serve as one of several community hubs for hosting events and entertainment.
Want more? Listen to one of our favourite moments from The Ali Clarke Breakfast Show – Tune in weekdays from 6AM on Mix102.3!